David Byrne bringing 'American Utopia' to the Colonial for a pre-Broadway run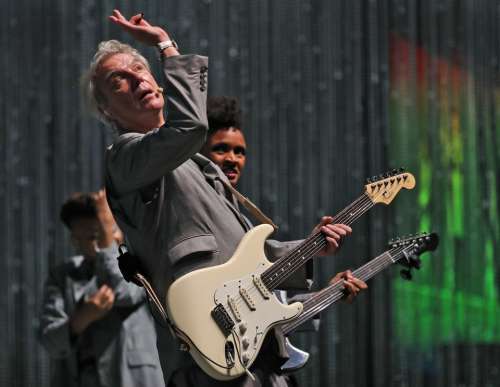 Matthew J. Lee
By Mark Shanahan
"David Byrne's American Utopia" is headed to Broadway this fall, but not before the former Talking Heads frontman stages 18 performances of the hybrid theatrical concert at Boston's Emerson Colonial Theatre.
The show, featuring Byrne and an 11-piece band performing the multi-hyphenate's songs in a context that's part musical theater and part rock 'n' roll, will be at the Emerson Colonial Sept. 11-28 before moving to Broadway's Hudson Theatre, where it'll run Oct. 4 to Jan. 19, 2020.
In an interview with the Globe, Byrne said the show will be familiar to anyone who saw his tour last year promoting the album "American Utopia." Those concerts, praised by critics and fans, were highly stylized and choreographed, featuring a stage stripped of gear — wires, microphones, speakers, risers — that put the focus squarely on the musicians and the music.
"I was fully prepared for the audience to say, 'Oh, what the hell is he up to now? Is this him playing out his artsy-fartsy impulses? Just give us a regular show!' " Byrne said, laughing. "But that isn't what happened. They may have had that reaction after the first song, but then they were fully on board. I could sense them coming around."
When the "American Utopia" tour finally wrapped — the band played 150 dates (including a stop in Boston) in 27 countries — Byrne said he was encouraged to consider a Broadway stint, and the idea intrigued him. Though best known as the author of "Psycho Killer" and "Once in a Lifetime," among other Talking Heads hits, Byrne has theater bona fides that include collaborating with choreographer Twyla Tharp on the 1981 Broadway show "The Catherine Wheel," creating a stage production of his 2010 concept album "Here Lies Love," and writing the musical "Joan of Arc: Into the Fire."
Byrne said the new show, which includes a selection of Talking Heads songs as well as material from his solo career, will have a more explicit narrative arc than the "American Utopia" concerts, but it won't tell a story in any conventional sense.
"I'm never going to tell the audience what it's about. You have to put it together," he said. "I've been around long enough to know the showbiz rules: Show, don't tell. The audience is going to feel what it is, and that's going to have a deeper, more lasting impression for them and for me.
"We're going to tweak the beginning of the show so that the audience can piece together the character, what the world is, and what the character's going through," he said.
The creative team behind "David Byrne's American Utopia" includes choreographer Annie-B Parson, who staged the "American Utopia" tour and worked with Byrne on "Here Lies Love"; keyboardist-arranger Karl Mansfield, who serves as the show's musical director; and production consultant Alex Timbers, who worked on "Here Lies Love" and directed the musical "Moulin Rouge!," whose pre-Broadway run last year was also at the Emerson Colonial.
One of the most striking aspects of the "American Utopia" concerts — the austere stage setup and the untethering of the band from the usual trappings of live performance — will be part of the theatrical show. Byrne said the emptiness puts the emphasis on the music and the movement of the musicians. Backing Byrne will be Mansfield, Jacquelene Acevedo, Gustavo Di Dalva, Daniel Freedman, Chris Giarmo, Tim Keiper, Tendayi Kuumba, Mauro Refosco, Stephane San Juan, Angie Swan, and Bobby Wooten III.
"It's more human than when you're getting dazzled by all kinds of effects," he said. "We're just people, as you in the audience are just people."
The choreography is likewise simple and straightforward, Byrne said.
"When you use the word choreography, a lot of people will think of [Janet Jackson's] 'Rhythm Nation' or big spectacle pop shows with lots of dancers doing things we could never do," he said. "We've got a couple of trained dancers who do things that are hard for me to memorize, but there's almost nothing, physically, the audience couldn't do."
Byrne said fans may discern a similar vibe and energy to some of his previous work, including "Stop Making Sense," the terrific 1984 Talking Heads concert film directed by Jonathan Demme.
"I don't think anything is born fully formed. It's always a process of taking what you've done before and adding to it or changing it, building on your past," he said. "Eventually, as with this show, you get to a point where you say, 'Oh, this is all of a piece. Everything belongs together.' "
Tickets to "David Byrne's American Utopia" at the Emerson Colonial Theatre can be purchased at www.emersoncolonialtheatre.com, by phone at 888-616-0272, or in person at the Emerson Colonial, 106 Boylston St.