David Byrne Brings "Reasons To Be Cheerful" to Europe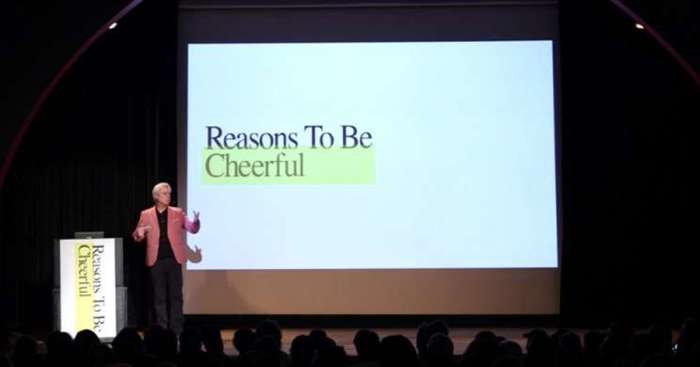 David Byrne, whose new album, American Utopia, is due March 9 on Todomundo/Nonesuch Records, begins a five-city European tour of his ongoing Reasons To Be Cheerful project at the Copenhagen Main Library this evening, followed by stops at The Venue in Berlin, Fondazione Prada in Milan, and De Balie in Amsterdam, culminating at the Sackler Space at the Roundhouse in London on January 30. At the events, which are free and open to the public, Byrne presents hopeful writings, photos, music, and lectures he has curated over time, as he did at the presentation he gave at The New School in New York City earlier this month introducing his new album and tour (which you can watch again on his Facebook page).
"I began to look for encouraging things that are happening anywhere in the world, and if they have been tested, if they have been proven to work, if they can be transferred and adopted in other places, if they can scale up—then, I thought to myself, why not hold them up for consideration, and also invite others to add to this project," says Byrne. "There are actually a LOT of encouraging things going on around the world—they've given me hope, they're a kind of therapy, given what's happening in the world, and I'd like to share them."
See below for the list of Reasons To Be Cheerful events in Europe. For more on David Byrne's upcoming American Utopia tour, visit nonesuch.com/on-tour.
To pre-order American Utopia, head to iTunes and the Nonesuch Store, where orders include an instant download of album track "Everybody's Coming To My House," as well as an exclusive print facsimile of an early handwritten lyric sheet to the song.
DAVID BYRNE'S REASONS TO BE CHEERFUL
Jan 22 Copenhagen Main Library* Copenhagen, DENMARK
Jan 24 The Venue Berlin* Berlin, GERMANY
Jan 26 Fondazione Prada* Milan, ITALY
Jan 28 De Balie* Amsterdam, NETHERLANDS
Jan 30 Sackler Space at The Roundhouse* London, UK