David Byrne Found A Way To Make Color Guard Cool
Via Observer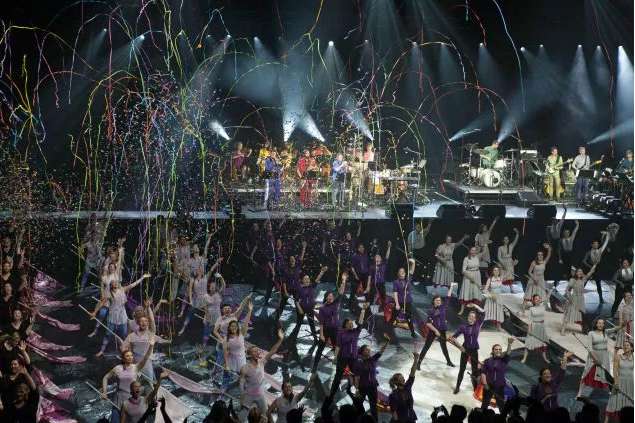 By Justin Joffe
Who else but David Byrne would ever think to pair color guard teams with musicians for a live performance? Byrne's latest project isn't his first far-out collaboration with BAM, nor is it his first attempt at making art by re-contextualizing something that's often under-appreciated.
Contemporary Color is a different creation though, more successful for bringing the vibrant artistry of color guard to a wider audience than it would have been as just another creative experiment. As most who attended the two-night spectacle can attest, the "sport of the arts" known as color guard has detached from its military history and evolved into a distinct performance genre, never mind the rifles and sabers.
Saturday's first of two weekend performances was hosted at Brooklyn's Barclays Center, the arena cut in half by a stage for the musicians, while a floor in front was kept clear for color guard teams to perform on. The 10 teams were paired with 10 well-known recording artists premiering original compositions backed by a 13-member band, and bolstered by all the high-production value grandeur that an arena show offers. The scene most closely resembled a high school gymnasium experienced on psychedelics.
"Ladies and gentleman, America has changed," said Byrne, before launching into his number "I Was Changed" with the French-Canadian guard Les Eclipses. It's hard to imagine that Byrne wasn't winking at the audience by scheduling the Contemporary Color shows on Pride Weekend. And the color guard community was grateful to be in New York, where the gay rights movement was born, to echo the city's celebrations at the end of a historic week.
Bill Ryan, a technical coach to the first-up Shenendehowa High School Color Guard team, felt the significance of being in New York with his team this weekend.
"We passed the celebration in the village," he told the Observer. "It was cool to even pass by and see it from the bus window—that will stick with me for the rest of my life. It's a decision that affects my future."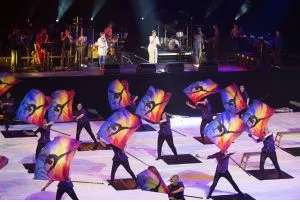 We quieted down when the lights dimmed and Mr. Ryan's kids took to the floor. Backed by Brooklyn indie-pop sisters Lucius, Shenendehowa High School performed a routine called "Master of Suspense," an homage to Hitchcock films that featured elaborate Psycho shower curtain structures on wheels, a high jungle gym structure to portray Vertigo, and a series of flags painted with Birds. The performance, simultaneously referential and avant-garde, was impressive by any measure, let alone when performed by high school kids. Impressive too was the methodology that the team implemented in breaking down these props between numbers. It was a testament to how much of a community exists around supporting these color guard teams.
"We have an entourage of parents who travel with us—a dad built that jungle gym," said Mr. Ryan. "It falls on them to set up. The parents commitment to their kids amazes me."
The performances continued to elicit a similar sense of awe. The Alter Ego guard performed to an original composition by Nico Muhly while Ira Glass sampled quotes from the troupe about their love of color guard. Singer Nelly Furtado performed alongside tUnE-yArDs' Merrill Garbus and the soulful Dev Hynes, when the chorus of her uplifting, belted-out ballad was complemented by the waving purple and yellow flags of Ventures guard. Frequent Byrne collaborator St. Vincent premiered her song to a choreographed scene from an insane asylum, conceived by the Field Of View guard.
If such pageantry seems like an escalation of what comes to mind when you picture the color guard backing up drum corps in a marching band, well, it certainly is. But Color Guard has a reputation for reinventing itself. In fact, it didn't even start incorporating dance until the '80s.
"It's so different from when I did it in the '80s," said Mr. Ryan's fellow coach Jennifer Lawrence [no relation]. "You have more choreography people and technicians… we call it cleaning."
"When the piece flows and everyone is together we say it's 'clean,' and when it isn't it's 'dirty,' " explained Mr. Ryan.
He went on to say that any given color guard could have as much as 10 separate coaches working with the group at once. When the Observer asked how much input the kids have in the process of choosing a routine, Mr. Ryan said coaches introduce themes specific to the energy and the vibe that any given group exudes.
"To some degree the kids contribute without knowing it," he said.
Just what these kids are contributing to, however, is constantly changing, shifting forms of context and presentation to evolve with the times. In a video between routines, choreographer and former America's Next Top Model winner Jay Mccarroll walked the audience through his creative approach. "I say, 'What's the vibe of it?' Then I start with colors," he said. "I'm a little cog in the wheel."
When the Observer asked Mr. Ryan if he sees color guard growing in popularity, he wasn't sure. "I wish that it would be the seed of something more, but who knows," he said. "A lot of it relies on people like David Byrne who came along and started the whole process. Is there anyone else out there willing to take that chance?"
Mr. Mccarroll was less skeptical about color guard catching on: "It'll be like pole dancing where all these adult women say, 'Let's take a color guard class!'"