David Byrne joins NYC rally to save the arts from Trump cuts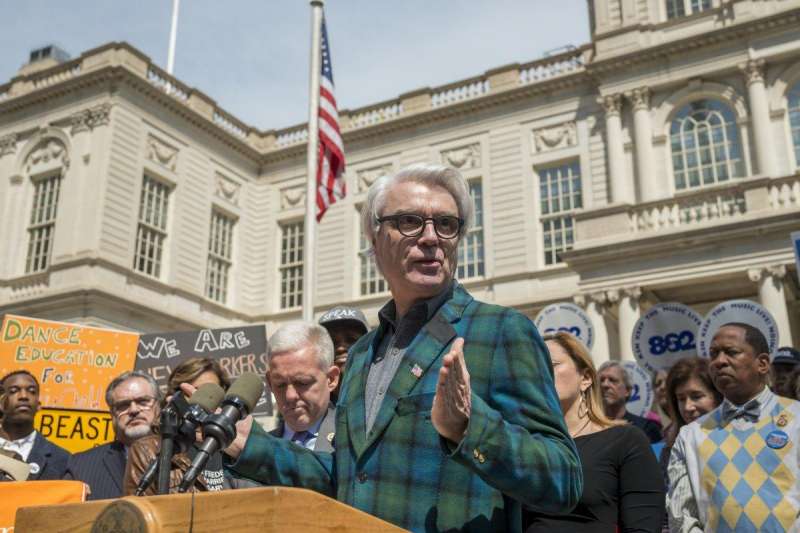 Musician David Byrne is seen at a rally on the steps of City Hall held to denounce federal cuts to funding for arts programs on Monday. (ALBIN LOHR-JONES/ALBIN LOHR-JONES/SIPA USA)
Written by Erin Durkin
Cutting funding to the arts is a road to nowhere, former Talking Heads frontman David Byrne said at a rally at City Hall Monday.
Byrne was one of a group of musicians, Broadway stars and city pols protesting President Trump's move to eliminate federal funding for the arts.
"You may hate the arts. You may hate the stuff that people paint and the theater that they do, but do you want to lose all those jobs? Do we want to kill this part of the economy?" he said. "That's just completely stupid."
Trump's plan would ax the National Endowment for the Arts and three other organizations.
"President Trump's budget is an unprecedented and vicious assault on the arts, the humanities, libraries," said Councilman Jimmy Van Bramer, chair of the cultural affairs committee.
"President Trump talks a lot about making America great again, but you can never make anything great again by crushing its soul."
Also facing the ax are the National Endowment for the Humanities, the Institute of Museum and Library Services, and the Corporation for Public Broadcasting.
Those institutions collectively make up 0.02% of the federal budget, said Council Speaker Melissa Mark-Viverito, who suggested a motive more sinister than saving cash.
"We know what this is about. People who appreciate culture and the arts are people that have a greater understanding of the world. That is a threat to this administration," she said.
The NEA gave $14.5 million to 419 groups in New York City last year.
Jelani Remy, who plays Simba in Broadway's "The Lion King," recalled how important arts were to him as a kid before leading the crowd of hundreds outside City Hall in a rendition of "Over the Rainbow."
"When I saw my first Broadway show, I wanted to be up on that stage. It gave me an escape," he said.