Do Yourself a Favor and Catch David Byrne's 'American Utopia' Show on Broadway This Fall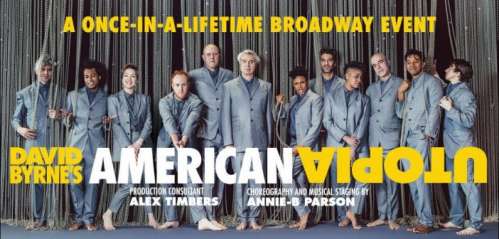 By Adrian Garro
Late last week, it was announced that David Byrne is taking his American Utopia live show to Broadway for a limited-engagement run at the Hudson Theatre in New York City, running from October into January.
The show, an extension of Byrne's acclaimed, sold-out headlining tour across North America supporting his eclectic 2018 album American Utopia, will no doubt be a must-see. For one, the live show itself as it was performed on the road was incredible, both visually and aesthetically.
Touching on songs from throughout Byrne's career with Talking Heads to his innovative solo career and beyond, the American Utopia live show featured an ensemble of dancers performers moving about the stage in unison, not moored to their respective places on the "stage" as you'd see with any other traditional concert.
It was ever-evolving, constantly in motion and breathtaking to watch.
Via the Broadway show's official site:
Following a sold-out world tour, the acclaimed theatrical concert comes to Broadway's intimate Hudson Theatre for 16 weeks only.
DAVID BYRNE'S AMERICAN UTOPIA delivers "an experience unlike anything else" (Billboard) and marks a major cultural milestone in the worlds of music and theater. Innovative pop/rock icon David Byrne (Talking Heads, Here Lies Love) shares the spotlight with a diverse ensemble of 11 musical artists from around the globe.
Together with production consultant Alex Timbers and choreographer Annie-B Parson (his collaborators on Here Lies Love), Byrne and ensemble deliver "a marvel of staging and motion" (Chicago Tribune) that's as surprisingly poignant as it is supremely funky. Don't miss this "thought-provoking example of the power of live music" (Forbes).
Do everything you can to make it to one of these performances. Just saying …