FILM HOUSE: The Talking Heads at a most fertile time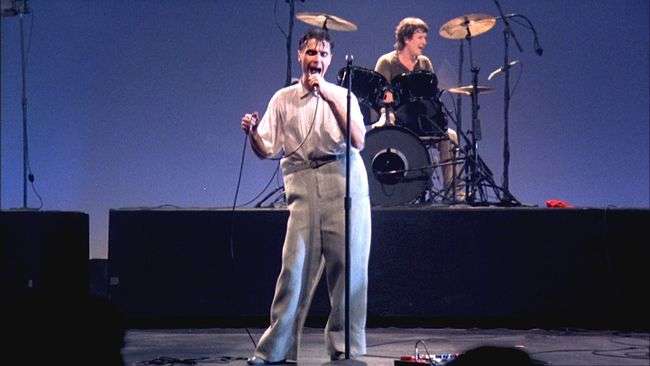 Stop Making Sense, a film about the 1984 Talking Heads, is showing at the Film House at First Ontario Performing Arts Centre in St. Catharines. (Supplied photo)
Written by Kevin Richardson
If there is one term that makes a new wave musician squirm, even more than being referred to as a new wave musician, it's quirky.
Quirky they were though, bug-eyed and bookish, anti-rockstar in dress and presentation with their shirts buttoned up too high, ladies and gentlemen … The Talking Heads.
In the New York City class of '77 punk explosion a series of quite different bands emerged, all quite different from each other but swept up in the coverage under the umbrella of a punk scene. Sandwiched in between the sonic, all-knowing stoopidness of the Ramones and Dictators, amongst The Heartbreakers, Television and Blondie, was a petite group with a lead singer usually brandishing an acoustic guitar.
Their pictures appeared frequently in the smarter magazines and the advert for their first single Love Goes to a Building on Fire appeared in Rock Scene, the cultural subway to New York music and its small but rabid scenes. Their credibility increased when David Byrne, Tina Weymouth and Chris Frantz added fourth member Jerry Harrison, formerly of Jonathan Richman's Modern Lovers, whose John Cale-produced debut album held a direct connection to the Velvet Underground and the long shadow cast by their notoriety.
This was a smart band with new ideas. Touring and playing gigs in a traditional manner, they were the one band enjoyed by people generally leery of the more aggressive blasting bowery boys of the genre. Psycho Killer broke them open to the public at large, as did their Saturday Night Live appearance and emerging video markets. Acceptance from the British rock and roll crowd came with their successful association with former Roxy Music colourist Brian Eno for three albums, bringing with him his big forehead of ideas.
The film Stop Making Sense finds the 1984 Talking Heads ensemble at their peak period of popularity. Seven years of recording and touring behind them, now augmented with additional musicians including Funkadelic keyboardist Bernie Worrell, percussionists and back-up singers. Certainly, a changed band now funkier with larger arrangements and more visuals including Byrne's exaggerated suit.
Having earned the clout to work with director Jonathan Demme (Silence of the Lambs, Melvin and Howard) this film is all crystal-clear production values, professionally shot and steady, a million miles away from shaky 16-millimetre films of muddy fields and Canned Heat, 15 years after Woodstock. The Talking Heads and their contemporaries such as Devo and Elvis Costello were pulling away from those days fast and furiously, developing a rift between rock fans, some still preferring what would later be called classic rock.
Film House attendees will know the clever Life During Wartime, buoyant grimness with hook lyrics, mentioning CBGB and The Mudd Club, declaring this ain't no fooling around. An intense performance of Burning Down the House.
An almost solo Psycho Killer, already more mature, a sadder but wiser take on the song, not just blasting out The Big Hit. During Once in a Lifetime Byrne declares that it's same as it ever was, but you can see the changes in music at this time, spearheaded by bands like this, making older ideas of presentation and entertainment now a matter of choice. After all that cultural pioneering, they round up the show with their cover of Al Green's Take Me to the River. Stop Making Sense is a mind-blowing 33 years old at the present, a document of an original band at their most fertile. The excellent sound system ensures the concert experience, making the music series so far presented real happening events.