Live Review: David Byrne's Contemporary Color At Brooklyn's Barclays Center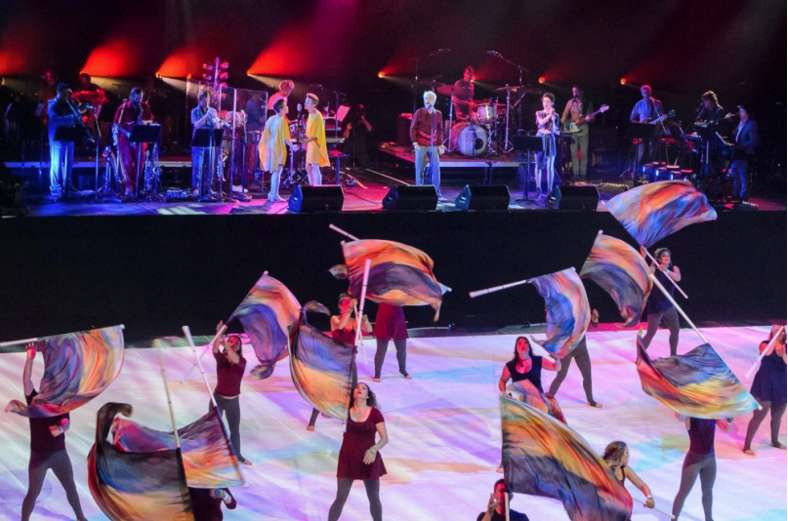 By Nina Corcoran
As someone who grew up in a rural New England town, I used to find that the words "color guard" sounded strange together, like some type of creativity protection group. It wasn't until I visited a football game in Austin, Texas that the words come to life — and oh, do they have a life of their own.
In the act, color guard looks difficult. You twirl flags, you strike poses, and you smile. It began on literal battlefields and slowly inched closer to the sidelines where we find it today: the dramatic warm-up at high school football games, drawing a response that's predominantly summed up by, "Whoa, that's pretty cool." But like any sport, particularly one with rigid, exact moves, it's inexplicably harder than it looks, combining cheerleading moves, flag twirling, saber throws, and acrobatic gymnastics all to the beat of a song. Color guard isn't just a sport. It's an art form, and the fluid construction 10 teams left on the floor at Barclays Center this Saturday was too mesmerizing to shake off.
Inspired by a color guard troupe that used one of his songs in 2008, David Byrne spent the last three years planning what would become Contemporary Color, a performance event inspired by the high school phenomenon. The Talking Heads' icon invited 10 color guard teams from the US and Canada to work alongside 10 of today's most diverse artists, ranging from Nelly Furtado to Dev Hynes, to perform at Brooklyn's Barclays Center. Once given the blessing from Winter Guard International, Byrne created "the biggest glitter cannon show of your life." But Contemporary Color went beyond that. It was an elevation of the arts in expectations, possibilities, and all-around energy from every person involved.
The event started with the color guard teams adjusting to live music. As Lucius admitted in one of the many pre-recorded videos aired between the 10 performances, they needed roughly one day to write their song, "What's the Use in Crying?". The Clifton Park, New York team Shenendehowa High School took 26 weeks to create their choreography, costumes, and equipment designs, the output of which was a tremendous Alfred Hitchcock tribute complete with rotating jungle gyms, a director's chair, and reversible blood-soaked dresses for when the performers flipped upside down. Changing their routines to match the shifting beat of live music versus a pre-recorded song took some adjustment on their end.
Contemporary Color rolled out the all-star lineup, but musicians took the backseat. Those who didn't, like Zola Jesus, who thrashed onstage during "Something Beautiful" — a boastful anthem written in part by Kelis who was originally scheduled to sing that evening — and How to Dress Well, who threw his hands out as if conducting the enormous drums in "How Could This Have Happened? (Version 2)", looked out of place. Even Byrne shied away from the spotlight, slotting himself as the second-to-last act on the bill. Given that the stage ran horizontally in the venue, the live music was distanced from the audience, reminding viewers that they were a bonus, not the usual centerpiece. Recorded footage later showed artists trying to spin the rifles themselves; the look on their faces after barely succeeding was hilarious.
There were clear divides between hometown friends and music fans. During Dev Hynes' lush ballad "Black Watch", the room fell silent, letting jazz saxophone score the group's cohesive, emotive moves. After a few solo whoops, a parent next to me turned to her husband and asked angrily why no one was cheering, somehow unaware of the disconnect between parents and fans. The basic etiquette of both festivities were lost on those unaware of when to clap or what, exactly, to look for. Thankfully, the rest saw most cheering throughout, including the superhero beats of Beastie Boys' Ad-Rock and longtime collaborator Money Mark's "Quattro Mentos", both of whom wore oversized shirts and flat-brim caps onstage to revel in nostalgia.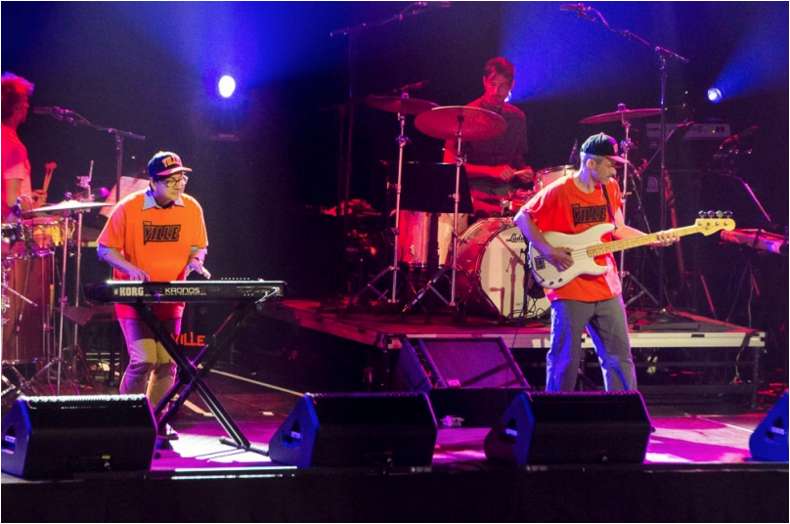 St. Vincent and West Chester, Pennsylvania's Field of View mimiced a reckless mental ward in Lunatic, a combination of monkey calls, crazy laughter, and intense flag twirls on metal benches. Annie Clark's contribution, "Everyone You Know Will Go Away", brought out the absurdities with sultry guitar and flutes reminiscent of "The Strangers", building up to an epic finale where her outstretched hand beckoned the teens to flock towards her as if possessed and collapse, exhausted. With routines this complex, the occasional misstep or sword drop virtually went unnoticed in comparison to the overall unity of several dozen teen performers.
Nothing bridged the gap between newcomers and diehard guard fans like Nico Muhlyand Ira Glass' "What Are You Thinking?" for Trumbull, Connecticut group Alter Ego. The two compiled a series of interviews with Alter Ego's teens on what runs through their mind step-by-step in said performance. Nervous glances, shared smiles, and inevitable gossip highlighted each long jump and spinning saber while Muhly's post-rock instrumental called on xylophones and violins. Watching with footnotes directly from the team drew attention to hidden parts of the performance, like the difficulty of grabbing a flag mid-twirl and whipping it back up or the scurry to hide swords in line with the mat's design.
Coming to life the day after the Supreme Court's ruling on marriage equality, Contemporary Color boasted the buzz of equality in a grander scheme. Each color guard group illustrated the variations in race, gender, orientation, body type, and socioeconomic status that make up America and Canada, again speaking volumes about sport stereotypes. "The world has changed," Byrne said before performing his number, ushering a huge cheer from the crowd. It was the only time a musician spoke into the microphone other than to sing.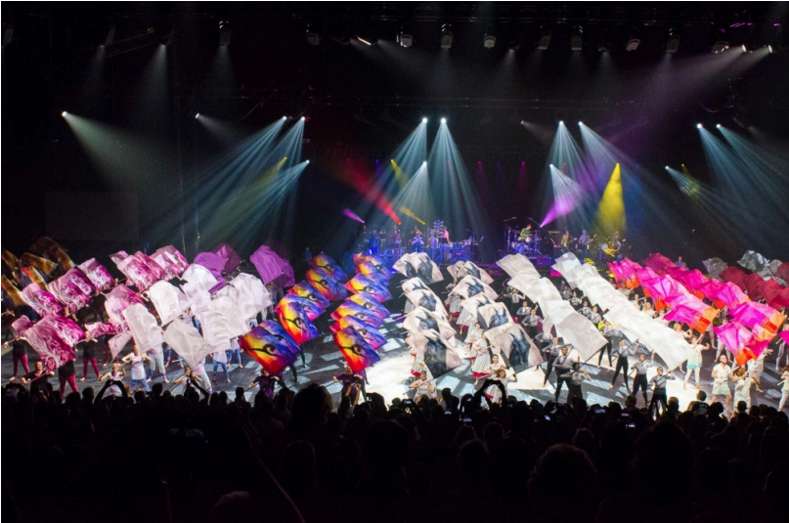 tUnE-yArDs' concluding "Body Code" lit the beauty of color guard on fire. Emanon of Hackettstown, New Jersey strapped on light-up belts and painted their faces for a glitchy, jerking performance in time to Merrill Garbus' vocal gasps. As the repetitive drum rhythms stacked and Emanon's army-like marching grew taught, their show threw punches at any backlash color guard has ever received. The pairing illustrated the cohesiveness of it all. "Every year, I have 26 daughters," one color guard dad told the camera between sets. His pride hit with a pang, and hearing the parents scream in delight during the final number made his words ring even louder.
Contemporary Color is a reminder of what we already know but often choose to forget: There's more art out there ready and wanting to move us. These color guard teams are high schoolers, and many just celebrated the end of their senior year. As they shared their good luck rituals with the crowd — kissing walls, hugging teammates, patting the performance floor, chugging pixie sticks — it became clear how mind-blowing this was not only for them, but for the audience. Contemporary Color was the first time many saw the merits of an underrated sport-meets-art show. Should we give color guard more than five minutes on an AstroTurf field or indoor gym, onlookers would find their newest obsession, or, as color guard designer and Project Runway winner Jay McCarroll put it in one of the transitional videos, "It'll be like pole dancing where all of a sudden women want to take classes." Don't be surprised if that proves true in five years, especially if the world gets a closer look at Byrne's extravaganza.