NYT Review: 'American Utopia' Is David Byrne's Neighborhood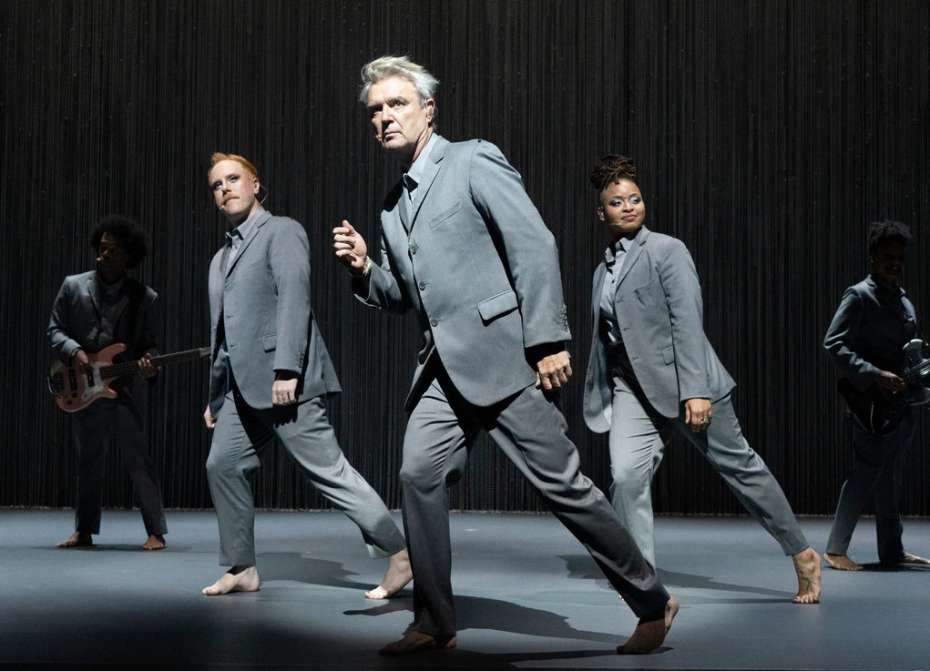 From left, Chris Giarmo, David Byrne and Tendayi Kuumba in "American Utopia."CreditCreditSara Krulwich/The New York Times
BY BEN BRANTLEY
Won't you be his neighbor?
David Byrne doesn't actually make that request in "American Utopia," his cloud-sweeping upper of a touring show, which opened on Broadway at the Hudson Theater on Sunday. Yet when the silvery, gray-suited pop star poses another musical question — "Will you breathe with me?" — you may find yourself thinking of the theme song of "Mister Rogers' Neighborhood."
I'm not the first person to note similarities between Fred Rogers — the cardigan-wearing children's television host (and the subject of a new Tom Hanks movie) — and Byrne, the New Wave musician who writhed into the spotlight performing "Psycho Killer" in the 1970s. But as I watched "American Utopia," the comparison felt especially apt.
Rogers was a benevolent, ditty-dispensing educator in civic virtue and human tolerance, who hymned the miracles of beautiful days and kindly friends, while acknowledging the fallibility of us all. So, I would argue, is the David Byrne of today. He just happens to infuse his teaching with a beat that turns everyone into a spasmodic St. Vitus dancer.
For the generation that came of age listening to Talking Heads, the band that Byrne fronted, he was a cool emblem of alienation, a sexy geek who always seemed to be dancing with himself. But Byrne has now passed middle age (he's 67), as have those who first saw him flailing like a dervish at the Manhattan punk palace CBGB.
In "David Byrne's American Utopia" — an expansive, dazzlingly staged concert — he emerges as an avuncular, off-center shepherd to flocks of fans still groping to find their way. Like him, or the version of himself he presents here, they're heading into the twilight, wondering why the hell they haven't grown up yet.
Byrne has some prescriptions for them and, by extension, for a United States that has, to borrow from one of his vintage songs, stopped making sense: Reach out, make a close study of people other than yourself, and please do not forget to vote in the next elections. (A voter registration team is stationed in the lobby.)
This advice comes free of medicinal aftertaste or agitprop. Byrne puts the central tenet of making contact with a world outside your mind into dynamic, sensory practice onstage. He begins the show, Hamlet-like and alone in an all-gray set, contemplating a model of the human brain.
Singing with solemn wonder, he itemizes its different parts. This strange, mazelike organ would seem to encourage a state of endless interiority. Yet there is the possibility of "connection — to the opposite side."
Enter the opposite side, person by person, through the magically porous, shimmering gray curtains that encase the stage. The musicians and backup singers materialize as a multiplying, multinational ensemble. Annie-B Parson's exacting, exultant and altogether astonishing choreography often have them moving in a single, tidal wave. Yet each of these gray-clad beings is irreducibly individual, and even with Byrne center stage, you want to watch everyone else all the time, too.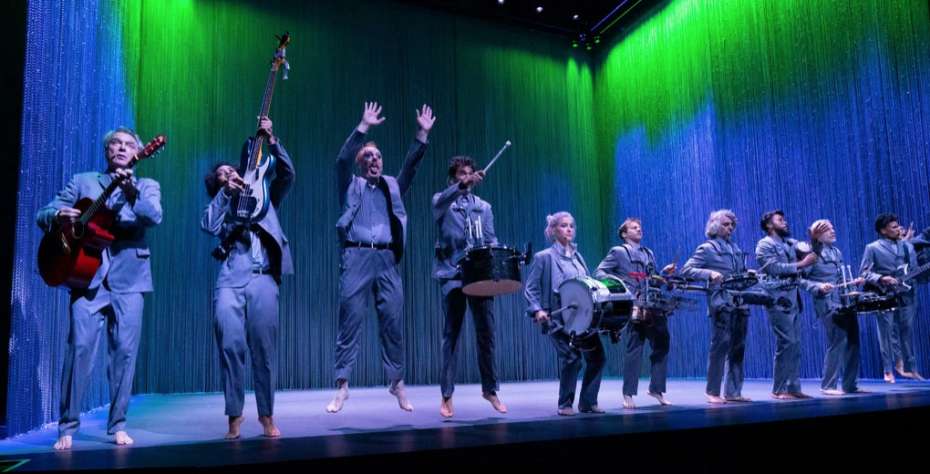 Annie-B Parson choreographed the multiplying ensemble of "American Utopia." Credit: Sara Krulwich/The New York Times
Fans of Byrne will recognize this device of an empty stage being gradually populated and animated by the arrival of music makers from the great 1984 Jonathan Demme concert film "Stop Making Sense." There's a difference, though.
In that film, even when he's sharing a mic with another singer, Byrne registers as an isolated being, in radioactive communion with himself alone. (He has spoken of probably being on the milder end of the autism spectrum.) In "American Utopia," he's in propulsive dialogue with everyone onstage, and with the audience, too.
In recent years, Byrne has become fascinated with color guards, those precision-tooled marching band units. (The infatuation was translated into a 2017 documentary.) The ensemble in "American Utopia" is as synced as any military corps.
And the marvel of what these musicians do while playing their instruments — skip, hop, leap, run in circles and bend like Gumby, always (like Byrne) in bare feet. Gospel call and response is translated into a physical conversation, rapturously underscored by Rob Sinclair's lighting. And yes, there is room for the manic flailing steps that are Byrne's signature. ("I dance like this, because it feels so damn good/If I could dance better, well, you know that I would.")
Though the name of the sitting president is never spoken, our topsy-turvy political climate is acknowledged by the performance of a nonsense song by the Dadaist artist Hugo Ball, prefaced by a description of the confusing, dangerous era from which it emerged (in 1930s Berlin). And the ensemble brings a flaming rage to Janelle Monáe's protest song, "Hell You Talmbout," an angry, invigorating memorial to African-Americans killed by police officers.
Like Bruce Springsteen's smash Broadway show of two seasons ago, "American Utopia" repositions a onetime rebel as a reflective elder statesman, offering cozy cosmic wisdom. The angry young Byrne is acknowledged here with rousing versions of the classics "Burning Down the House" and "Once in a Lifetime."
Time hasn't exactly mellowed these songs. But they now sound oddly hopeful in their bewilderment. When Byrne and company perform the 1985 hit "Road to Nowhere" as an encore, there's the jubilant reassurance that if the journey still has no destination, at least we're all in it together.
American Utopia

Tickets Through Jan. 19, 2020, at Hudson Theater, Manhattan; americanutopiabroadway.com. Running time: 1 hour 40 minutes.
Correction: Oct. 21, 2019
An earlier version of this article misstated the given name of the show's lighting designer. He is Rob Sinclair, not Ron.