SXSW Conference Announces Keynote Speakers Brandi Carlile, Nile Rodgers, More
BY PHILIP MERRILL
The SXSW Music Festival is coming March 11–17, 2019 in Austin, Texas and its associated SXSW Conference, beginning on March 8, announced its extensive lineup of keynotes and featured speakers on Feb. 13, including 61st GRAMMY Awards three-time winner Brandi Carlile as well as Beastie Boys' Michael Diamond and Adam Horovitz, T Bone Burnett, David Byrne, and Nile Rodgers. Featured speaker Shirley Manson of Garbage was previously announced.
Actress Elisabeth Moss will join Brandi Carlile for a discussion of how the real world of the music business and its portrayal in film overlap. They will also discuss Moss' guest spot on Carlile's video for "Party Of One" as well as Moss' preparations for her role as punk artist Becky Something in the movie Her Smell, coming out in late March.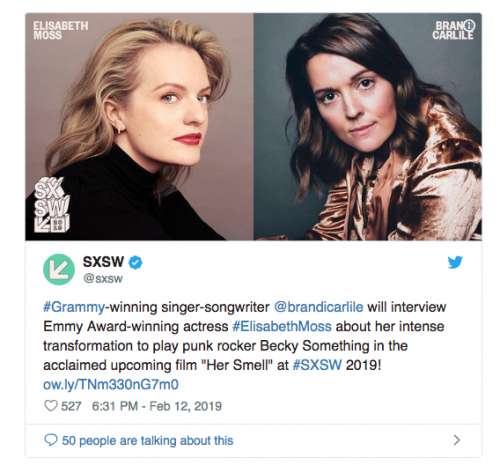 David Byrne's 2018 album American Utopia had been nominated at the 61st GRAMMY Awards for Best Alternative Music Album, but Beck's Colors won the category. T Bone Burnett's upcoming solo album The Invisible Light is due out on April 12. In Sept. 2018, Rodgers returned with Chic's first new album in more than a generation, It's About Time.
"We're fortunate to bring together a diverse group of creative thinkers and leaders to share their perspectives," said SXSW Chief Programming Officer Hugh Forrest. "From NASA scientists to entertainment legends Nile Rodgers and T Bone Burnett to influential voices like Stacey Abrams and Kara Swisher, the breadth and depth of programming at this year's event is what continues to make SXSW unique and indispensable."
More details and ticket packages are available on SXSW's website.