David Byrne to play Solo Show at Kirby Center in Wilkes-Barre
Via The Morning Call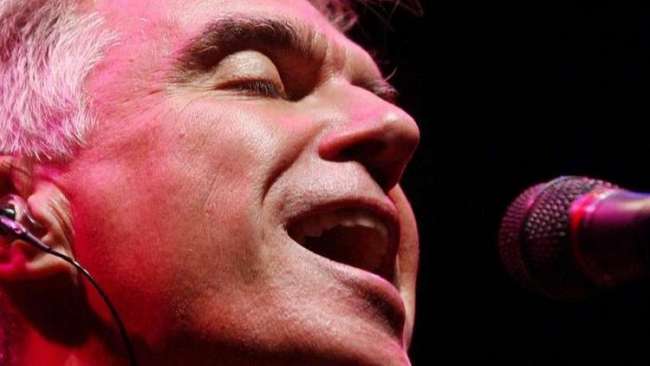 Written by John J. Moser
David Byrne, the musical auteur who helped transition punk rock to new wave with the seminal band Talking Heads, then expanded to world music and other genres, will play F.M. Kirby Center in Wilkes-Barre, it was just announced.
Byrne, who was inducted into the Rock and Roll Hall of Fame with Talking Heads in 2002 and has received Oscar, Grammy and Golden Globe awards, will perform at 7:30 p.m. March 4.
Tickets, at $59.50-$89.50, go on sale at 10 a.m. Dec. 15 at www.kirbycenter.org and 570-826-1100.
Byrne was the founder, principal songwriter, lead singer and guitarist for Talking Heads, who with The Ramones were early stalwarts of the New York punk rock scene.
Talking Heads released its debut album, "Talking Heads '77," in 1977, with its song "Psycho Killer," but didn't become a commercial hit until its 1978 sophomore disc "More Songs About Buildings and Food," with the single, "Take Me to the River," a cover of an Al Green song that gave the group a Top 30 hit.
That album went gold, starting a string of eight gold and platinum discs, including 1979's "Fear of Music," which produced the single "Life During Wartime"; 1980's "Remain in the Light," with its popular single "Once in a Lifetime; and 1983's platinum "Speaking in Tongues," which was the group's top-charting disc (No. 15) and produced its best-selling single, "Burning Down the House" (No. 9).
"Burning Down the House" gave the group a Grammy Award nomination for Best Rock Performance by a Duo or Group with Vocal.
But the group's best-selling discs were 1985's "Little Creatures," with the hit "And She Was," and 1984's live album "Stop Making Sense," the soundtrack to a concert movie of the same name. Both those discs sold gold.
After eight studio albums, Talking Heads broke up in 1991. The band was listed in Rolling Stone magazine's 100 Greatest Artists of All Time, with four of its discs on the magazine's list of Greatest Albums of All Time.
Byrne went on to a solo career in which he has produced eight studio albums, two live albums, nine compilation albums, a remix album and a video album.
His most recent solo release was 2012's "Love This Giant" with singer St. Vincent. It peaked at No. 23 on Billboard's Albums chart – Byrne's highest-charting sol disc.
His work the soundtrack for the 1987 film "The Last Emperor" won both the Academy Award and Golden Globe Award for Best Original Score.
He's been nominated for three Grammy Awards for his solo work, starting with Best Concept Storytelling Video for "Storytelling Giants" in 1988, and won that year for Best Album of Original Background Score for "The Last Emperor."
His most recent Grammy nomination was in 2009 for Best Alternative Music Album for "Everything That Happens Will Happen Today."
Byrne played his only Lehigh Valley date ever in 2008 at Lehigh University's Zoellner Arts Center.