Talking Heads founder David Byrne opposes spending cuts for New York City's cultural institutions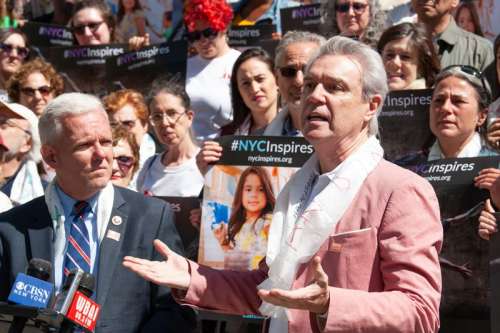 (Barry Williams/For New York Daily News)
By Anna Sanders
It's life during budget cuts.
David Byrne of the Talking Heads headlined a rally on the steps of City Hall on Tuesday calling for $23.7 million more for cultural institutions in the city budget and blasting the reduction in spending on them.
"Culture helps your whole city, your whole community, even if you don't partake in it – of course, I think you should," Byrne said.
The City Council asked Mayor de Blasio in April to increase funding for the Department of Cultural Affairs by $10 million. Lawmakers want an additional $13.7 million to be included in every budget for cultural institutions that were left out of the city's proposed spending plan released last month.
All of the funding would be funneled to the city's museums, zoos, music venues and other cultural institutions.
"When New York City residents have culture in their lives, their lives are better," City Councilman Jimmy Van Bramer (D-Queens), chairman of the Cultural Affairs Committee, said at the rally. "If you care about being the most progressive, the most fair city in this country, you must believe in culture and the arts."
De Blasio's $92.5 billion executive budget plan for fiscal year 2020 includes $144.8 million for the cultural affairs agency. That's about 28%, or $55.3 million, less across all program areas compared with the fiscal year 2019 budget adopted last June.
For Byrne, the issue is the same as it ever was.
The Rock and Roll Hall of Famer was on the steps of City Hall two years ago to protest federal arts and culture funding cuts.
"I'm realizing this is not something that you stop doing, it's something that you just have to keep doing over and over again until it all sinks in," Byrne said Tuesday.
Byrne cited a 2017 University of Pennsylvania study showing the positive impacts of arts and culture on the city's less prosperous neighborhood.
"In boroughs and communities where there was cultural institutions, there was 14% less child abuse, 5% less obesity, 18% less crime … and 18% rise in top test scores amongst the kids," Byrne said.
The mayor defended his cultural spending currently in the budget and showed no signs of upping the funding.
"We have made unprecedented investments in our cultural sector under this administration, money we've put to work in communities across the city by bringing greater equity to how funds are distributed," Department of Cultural Affairs spokesman Ryan Max said. "We look forward to continuing conversations with the City Council about support for the city's cultural community, in light of the current fiscal reality."
Calls for library funding also had star power. Actress Sarah Jessica Parker channeled her "Sex and the City" character Carrie Bradshaw in asking the city to restore $11 million in budget cuts.
"I couldn't help but wonder, could I as a New Yorker accept cuts to our wonderful, important, necessary and beloved libraries," Parker wrote in an email sent out by the New York Public Library.