TRIBECA 2016 ANNOUNCES LINEUPS FOR COMPETITION PROGRAMS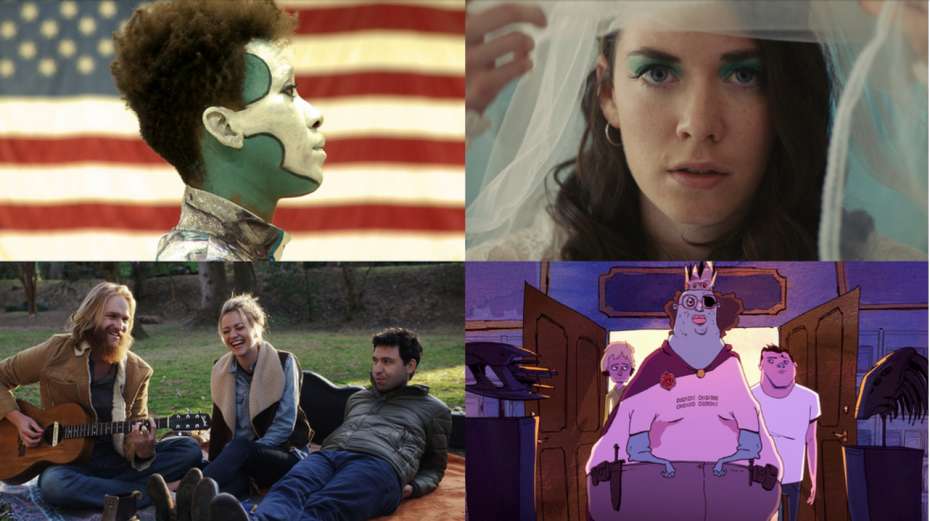 By The Editors
So, "The film industry needs more diversity," you say? The 2016 Tribeca Film Festival (TFF), our 15th edition and presented by AT&T, boasts a statistic that's sure to delight: One-third of this year's features are directed by women. Furthermore, 12 women directors and screenwriters are eligible for the Nora Ephron Prize, Tribeca's award designated for women who embody the great filmmaker's trailblazing spirit.
And that's just the beginning of what's shaping up to be Tribeca's biggest year yet. Today brings the announcement of the Festival's first wave of feature film—55 of the 101 total films that will bless New York City on April 13-24. These films all fall into the US Narrative, International Narrative, and Documentary Competition programs, as well as Viewpoints, where the most daring and exciting new talents from all around the world are showcased. And here some more noteworthy stats: This year's overall program, selected from a pool of 6,626 submissions, includes features from 32 countries, with 77 World Premieres, eight International Premieres, six North American Premieres, four US Premieres, and five New York Premieres. A total of 130 directors will screen their films, 42 of which will do so with their feature directorial debuts; 18 of them are Tribeca alums returning to the Festival.
"In our 15th year we wanted to deepen our support of American narrative filmmakers and have opened our competition to separately showcase the US and International films," said Genna Terranova, Festival Director. "We are very impressed by the films this year and inspired to see new voices transcending traditions and taking risks by telling their stories their own way. We are excited to share with audiences how the world of independent documentary and narrative filmmaking is thriving."
The US Narrative Competition will open with Kicks, director Justin Tipping's debut set in California's Bay Area, fueled by a vintage hip-hop soundtrack, and co-starring Christopher Jordan Wallace, a.k.a. the son of the Notorious B.I.G. On April 14, the World Documentary Competition will get underway with Contemporary Color, a vibrant and visually ornate doc chronicling Talking Heads' front-man David Byrne's 2015 color guard event at Brooklyn's Barclays Center, directed by siblings Bill Ross and Turner Ross and enhanced by musical performances from Nelly Furtado and St. Vincent. The 25-film-deep Viewpoints section will launch with the hilarious R-rated animated comedy Nerdland, featuring voice work from Paul Rudd, Patton Oswalt, Hannibal Buress, Mike Judge, and Molly Shannon. And lastly, the first-ever International Narrative Competition will kick off with Madly, an anthology of love stories helmed by Aussie-Polish actress turned director Mia Wasikowska, award-winning Mexican actor/director Gael García Bernal, Chilean indie darling Sebastián Silva, prolific Japanese genre master Sion Sono, Indian filmmaker Anurag Kashyap, and British singer Natasha Khan, who's better known by her stage name, Bat for Lashes.
"With our new International Narrative Competition we are reinforcing our faith in cinema from around the world and belief that Tribeca is a fantastic platform for filmmakers to share their vision. Over the ten days of the Festival these films will take our audiences on a cinematic adventure, and offer a wide range of perspective in both the stories they tell and the methods through which they're told," said Frederic Boyer, Artistic Director.
Such creativity is on full display throughout the Festival. There are audacious new films from acclaimed and always-provocative filmmakers like Ben Wheatley (High-Rise, starring Tom Hiddleston) and Drake Doremus (Equals, starring Kristen Stewart and Nicholas Hoult); head-turning performances from some of the industry's most promising up-and-comers, like Bel Powley, Tye Sheridan, and Emory Cohen (Detour), Dan Stevens (The Ticket), Lola Kirke (AWOL), and Keith Stanfield (Live Cargo); intrepid new films from countries as varied as Peru (Icaros: A Vision), Estonia (Mother), Argentina (The Tenth Man), and Ghana (Children of the Mountain); and hard-hitting documentaries that carry on Tribeca's longstanding tradition as the home of the world's best non-fiction storytelling, including all-access looks at the universal search for that ever-elusive L-word (LoveTrue, executive-produced by Shia LaBeouf), Wall Street's financial thievery (Betting on Zero), the alarming militarization of America's police departments (Do Not Resist), homosexuality in the Catholic religion (Memories of a Penitent Heart), sex offenders (Untouchable), and the "Satanic Panic" scare of the 1990s (Southwest of Salem: The Story of the San Antonio Four).
"The Festival has grown into a platform for discovery of new and distinct voices for both audiences and industry. Over 80% of the world premieres eligible for acquisition at last year's Festival were sold. We are energized by this year's filmmakers and films and look forward to introducing them to our Festival-going community, and premiering new work from several returning artists," said Paula Weinstein, Executive Vice President of Tribeca Enterprises.
To sweeten the pot for Tribeca 2016's immensely gifted, do-it-themselves artists, ten US narratives, eight international narratives, and 12 documentary features making their North American, international, or world premieres will compete for cash prizes totaling $155,000, as well as artwork from the Artists Awards program, offering donated work from contemporary artists.
Below, dig into the full list that comprises Tribeca's initial 55-film announcement, leading into next Tuesday's (March 8) unveiling of the Festival's remaining features split up into the Midnight, Spotlight, and Special Sections programs.