Tribeca Review: Infectious And Joyful Dance Documentary 'Contemporary Color' Featuring David Byrne,
Via IndieWire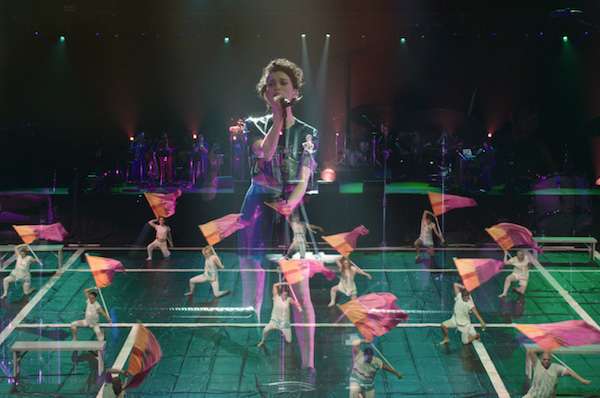 By Kimber Myers
It may reflect my personal biases, but I didn't expect to happy-cry my way through this exuberant color-guard documentary from Bill and Turner Ross. But from its early minutes through its triumphant finale, "Contemporary Color" brings the audience into its celebratory world that fuses music, dance, sports and pure happiness in a way that is impossible to resist.
For the uninitiated, color-guard teams put on synchronized routines to songs that have them twirling and throwing props like flags, rifles and sabers in unison. After being wowed by a color-guard performance, Talking Heads frontman David Byrne organized the titular massive concert at Brooklyn's Barclays Center that matches up 10 musical acts with 10 color-guard teams from the United States and Canada. Each piece of music is written expressly for the event, with the color-guard performers only hearing the song live for the first time on the morning of the concert in the summer of 2015. The groups each have directors who create complex choreography that prances between gymnastics and both traditional and interpretive dance, resulting in an epic production whose size is often too big to practice in high-school gyms. Byrne is a champion for them, advocating for it as an art form, and it's difficult to disagree. I spent most of the film trying to blink back tears, close my gaping mouth and smile all at the same time, a combination that seems far less impressive when you're watching the coordination of these multi-talented performers. It's gleefully overwhelming for those who aren't familiar with it, but the filmmakers do a solid job of directing your attention to the right place, though there's always more to see.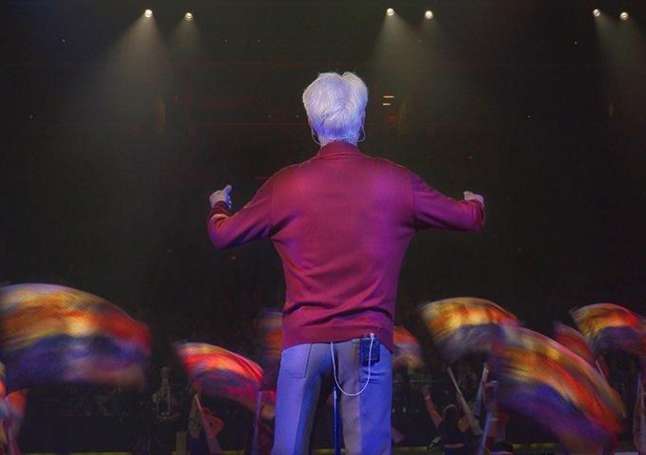 "Contemporary Color" winds through Barclays' labyrinthine backstage, giving audiences a peek at the teenage performers' nerves and excitement before they go on. The documentary intercuts between performances and the elaborate preparation involved, sharing interviews with the musical acts, the team members and their families. This event marks not only the last time the groups will be performing not only the routine they've prepared, but also the last time in their current incarnations as members graduate and new students join. The temporal nature of the moment only adds to the emotional swells.
In addition to performing himself, Byrne recruited a variety of acts to provide backing for the color-guard teams: Nelly Furtado, How to Dress Well, Devonté Hynes, Money Mark and Ad-Rock, Zola Jesus, Lucius, Nico Muhly and Ira Glass, St. Vincent and tUnE-yArDs. Most of the collaborations are art-rock songs that seem ready for a hipster's Spotify playlist, but there are a few exceptions to provide additional variety. Muhly provides the music behind a vocal arrangement that finds Glass editing together snippets of interviews he did with a color-guard team, who then coordinate their movements to their own descriptions of their experience. These musicians appear genuinely excited for the opportunity to perform alongside the students, and participating in the event, often leaving backstage to watch the show.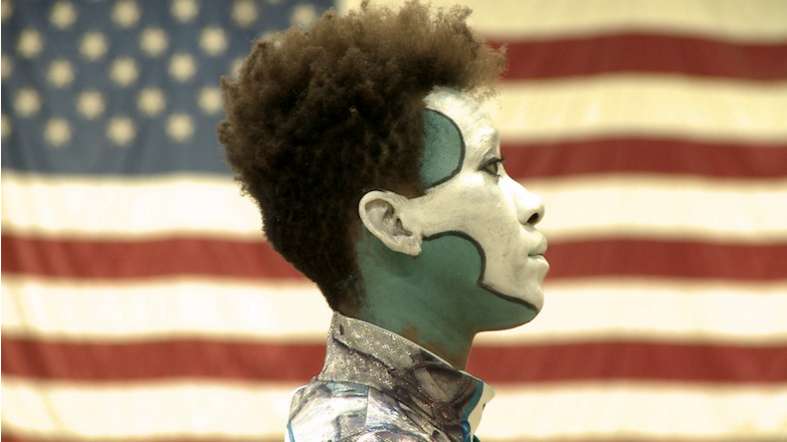 The Ross brothers change the directorial and editing style for each performance, allowing the cinematic techniques to match the style of music and dance. With cinematographer Jarred Alterman, their cameras ably capture both intimate moments where they zoom in on a performer's huge smile or offer overhead shots that see the teams' synchronized work as a whole from above. They overlay shots of the singers and bands with those dancing on the floor. A breathless sequence finds color-guard team members racing up to the Barclays' rafters to get the birds'-eye view of their peers' work.
Throughout the documentary, infectious joy leaps off the screen with the same energy the color-guard teams display. At the beginning of the film, a young woman gushes, "I love color guard! So much!" with an enthusiasm normally relegated to pop stars. And it's hard not to share her sentiment by the time the exciting, eye-opening "Contemporary Color" ends with a shot of a rainbow-confetti-strewn floor. [A-]